Getting Started
Ready to launch your Phonics Hero Child Accounts? Here's what you need to know: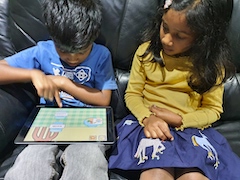 Playing Through a Computer or Our App
If children are playing on a computer, we recommend you use the Chrome internet browser.
Students can access their Child Account on iPads and compatible Android tablets too. Teachers and parents will need to download the app from the App Store or click the images below.


How to Manage and Monitor Your Child Accounts – an Overview


Get the Child Accounts Ready to Send Out
Any last minute changes to the logins?
For example: name, class or password. Teachers can update them within the Teacher Account by following the steps in this video:
Set children off on the right level
Starting the children off on the right foot is imperative. Whilst we run an initial Placement Test, it will only put children up to level 7 (it would get tiresome to be tested on all 44 phonemes in one go). For older or more advanced students who require a level higher than 7, you should move children before they log in. Watch how to adjust a level:
Stop children from zooming too far ahead
Set a schedule to stop children from rushing through the levels too quickly. It works like a brick wall, not letting children go any further. This video explains how to use our scheduling tool:
Sending Logins Home
Handy login cards for each student
Put them on lanyards or stick them in their diaries or Reading Records. Watch this video and learn how to download the Name Cards:
Send a letter home
Share information about Phonics Hero with parents and send home their login details using this letter. We also have Spanish and Chinese (Simplified and Traditional) translations. If you want to copy and paste the logins into a document, you can download an Excel spreadsheet of the logins by following these steps:
Keep the Children Engaged
Regular use is the key to progression and success in Phonics Hero. Set regular dates in your diary to remind parents of their login details and to use Phonics Hero at home. At this point, be sure to make adjustments to children's level throughout the year. It would be worth adjusting levels after each periodic phonics assessment. We've written up our experience on how the most engaged schools use Phonics Hero.
Track Progress
Check out the reports in your Teacher Account and track how the children are doing. Based on their results, you may want to adjust their level or use the information to plan your next phonics lesson. Watch this guided tour of the reporting features:
Our User Guides and Videos
Superpower your Phonics Hero knowledge with our PDF guides and video tutorials.
User guides
Additional resources
Add a class. Top Tip: Use our 'Classes' feature and create multiple classes which correspond with your existing reading groups or to differentiate your instruction. This will help you in the day-to-day management of the accounts when you assign levels, schedule homework and track the groups' progress.
Transfer an account between students. If one student leaves the school and no longer needs an account, and a new one begins, simply transfer the account – there's no need to purchase a new one!
Support From Phonics Hero
We're really proud of the support we give our customers so feel free to ask us anything on info@phonicshero.com.
We look forward to working with you towards your school's reading and spelling success!