Add More Child Accounts to Your Trial
Our trial wizard allows you to add 30 children to your trial at one time. You can add more than 30 by following these steps:
Log in > Manage Accounts> Classes & Students section
To add accounts, as an administrator, across the whole school:
Click the green Add/Buy Accounts button in the information bar at the top of the page.

To add child accounts for just your class:
In the Classes & Students section, click on your class name to expand it.




Then, follow the steps below:
In the pop-up window that appears, enter the number of students you want to add. The maximum number you can add at one time is 30. To add more, repeat this process as many times as needed.


Next, enter the children's names or other identifying information (student ID or initials, for example), class name (if adding accounts on behalf of your school). You can also change the starting level for each student at this time if you wish.




If you are adding Child Accounts for your whole school, continue with the steps below. If not, you may skip to step 3.
If you have assigned new accounts to a class which doesn't exist, follow the prompts to match it to an existing class or create a new class by ticking the box and click 'Next'.



If you have chosen to create a new class, you can select an existing teacher or choose to create a new one by ticking the 'create a new teacher' box and click 'Next'.



If you have chosen to create a new teacher, enter their details in the window that appears and click 'Next'.




The teacher will receive an email invitation with instructions to create a password or – if they already have a Phonics Hero account – transfer their account to your school.
Your new Child Accounts have been added! Click 'Download Name Cards' to save your PDF of Name Cards with login details to distribute to the children.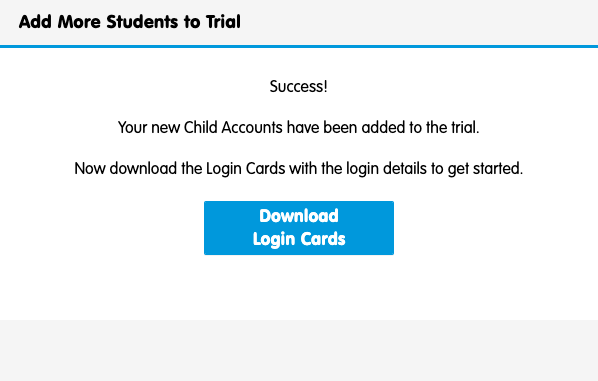 Export an Excel of details
Click the blue 'Export Report' button at the top right of 'Manage Accounts'.

This is useful for copying and pasting details into a letter/email or online learning platforms, or for your records.
Watch our how-to video:
Author:
Phonics Hero
Still need help? Contact us at info@phonicshero.com.