Buy Child Accounts
You can purchase new or renew existing Child Accounts directly within your Teacher Account ready for immediate use.
Note: If are a school administrator who does not have access to Phonics Hero and would like to purchase Child Accounts for your school, follow these steps.
Note: If you require a PO on your invoice, please include it when you purchase or email it to us at info@phonicshero.com.
Log in > Manage Accounts > Classes and Students Section > Add/Buy Accounts
To purchase accounts, as an administrator, across the whole school:
Click the green button in the information bar at the top of the page.

To purchase child accounts for just your class:
In the Classes & Students section, click on your class name to expand it.




Then, follow the steps below:
If you are currently trialling, in the window that opens choose the option to 'Buy existing and/or additional Child Accounts'. If you already have a paid subscription, you will go straight to the next step.



If there are spare accounts available, a pop-up will appear asking if you would like to use your spares or buy new accounts. Click 'Buy Now' to purchase new accounts.




You'll be shown the price per student/per year. Click 'Buy Now'.






You'll be given the option to buy existing accounts, add new accounts, or both.




The next steps will be dependent on what you choose here.



If you're purchasing existing accounts, tick the boxes to select which accounts you want to purchase from your list of students.


If you'd like to purchase new accounts, enter the number of new children you'd like to add. Then, enter the children's names, class name, and – if necessary – change their starting level, then click 'Next'.




If you are purchasing Child Accounts for your whole school, continue with the steps below. If not, you may skip to step 5.
If you have assigned new accounts to a class which doesn't yet exist, follow the prompts to match it to an existing class or create a new class by ticking the box and click 'Next'.



If you have chosen to create a new class, you can select an existing teacher or choose to create a new one by ticking the 'create a new teacher' box and click 'Next'.



If you have chosen to create a new teacher, enter their details in the window that appears and click 'Next'.




The teacher will receive an email invitation with instructions to create a password or – if they already have a Phonics Hero account – transfer their account to your school.

Use the drop-down menu to select how long you would like the accounts to be active for, 1 year or 6 months.

A summary of your order will appear. Once you are ready to finalise your order, click 'Buy Now'.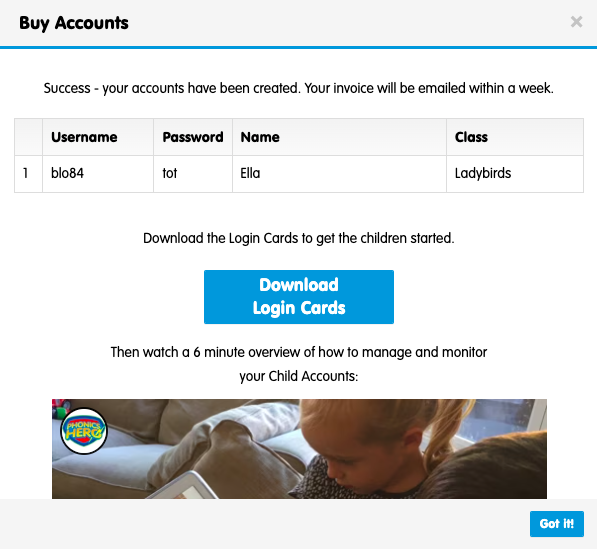 Your accounts have now been created and are ready to use! You can download Name Cards with login details to distribute to the children and use our letter template to send home to parents.
You will receive your invoice detailing payment methods within one week.
Watch our how-to video:
Author:
Phonics Hero
Still need help? Contact us at info@phonicshero.com.