What is a Schwa and How to Teach It
What is the most common vowel sound in the English language? If you said long or short /e/, you are wrong. The most common vowel letter is 'e' but the most common vowel sound is the sound /uh/ (like the sound someone makes when trying to think of a word). It sounds like the short /u/ sound, but is softer and weaker. It is the only speech sound with its own special name: schwa. It can be a cause of confusion and frustration in spelling and reading for a student so, in this blog, I'll give you a simple way to explain it and some tips for helping students to decode and encode words containing a schwa.
It's All About Rhythm
The English language is stress-timed. In an English sentence, the words that communicate the most important parts of a message (the nouns, main verbs, adjectives and adverbs) are stressed. e.g.

Function words (auxiliary verbs, pronouns, articles, conjunctions and prepositions) are not usually stressed, in order to maintain a regular rhythm in the language. For the same reason, words of more than one syllable have both stressed (strong) and unstressed (weak) syllables. For example, in the word:

the second syllable is stressed and, consequently, louder. We record this with a stress mark (ˊ) after/pointing to the stressed syllable.
Unstressed Vowels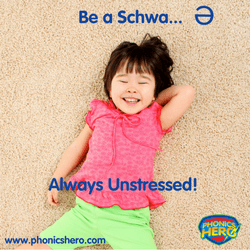 Unstressed words and syllables are usually said faster and at a lower volume than stressed words or syllables. As a result, the vowel sound in an unstressed word or syllable can lose its purity. In Level 1 of Phonics Hero (access free resources with a Teacher Account), students learn the tricky word 'the', and in Level 2 they learn 'a'. These words are articles, so they are unaccented, and the unaccented vowel in each of these words sounds like /uh/. We don't hear the expected 'long e' or 'long a' sound. Schwa is the most common vowel sound in the English language because most unstressed vowels are pronounced as a schwa.
Schwa – The Lazy Sound
The word 'schwa' comes from Hebrew and children usually enjoy saying it. Schwa is related to the short vowel sounds because it can be spelled by any of them, including the semi-vowel 'y'. I like to refer to it as the 'lazy' vowel cousin. You hardly open your mouth to create this vowel sound. The tongue, the lips and the jaw are relaxed. The schwa sound is represented by a /Ə/ in the Phonetic Alphabet (like an upside down 'e' or an 'e' too lazy to sit up!) It takes very little time to say in a word – so little that we, on occasion, lazily skip right over it when saying a word (e.g. the second 'o' in 'chocolate' or the first 'e' in 'different') or don't even represent it when spelling (e.g. the vowel sound between '-th-' and '-m' in 'rhythm').
Dialect
A schwa can replace an r-controlled vowel like /er/ when it makes up an unstressed syllable, e.g. 'letter'. Australians are renowned for making this replacement. Listen to an Australian say:

You are unlikely to hear the /r/ at the end of the three red words. Australian English does not use /r/ before a pause or another consonant so be particularly aware of this when teaching Phonics Hero, Part 3, Level 20 (ir, er, ear, ur, or). Schwa usage varies greatly between dialects. Australian English speakers often put schwas in places where British and American speakers do not.
When to Introduce Schwa?
I believe it is particularly important to explicitly teach EALD students, and students struggling with learning difficulties in reading and spelling, the schwa feature of the English language. Introduce it once they are reading and writing two-syllable words. These are included in Part 2 of Phonics Hero, The Advanced Code, and, of course, there are many in Part 3. You may have to explain it earlier if students struggle with tricky words containing schwa in Part 1 such as 'the', 'a', 'today', 'of', 'away'.
Suggested Sequence for Teaching Schwa
1) Teach the concept of 'stress' at sentence level first
Have students say a sentence, tapping their leg as they say stressed words. Have them mark the stressed words in written sentences with a stress mark (ˊ). Awareness of this will become very useful in poetry study in later years. Talk about the types of words that are stressed and the types of words that are not stressed.
2) Make the link between schwa and unstressed vowels at word level

Have students write the schwa symbol over the vowel in the unstressed words they identified.
3) Teach the sound of schwa
Courtney Bartlett (swimmingintosecond.com) has written a schwa song to the tune of 'The wheels on the bus go round and round'. This is my adaptation for young students: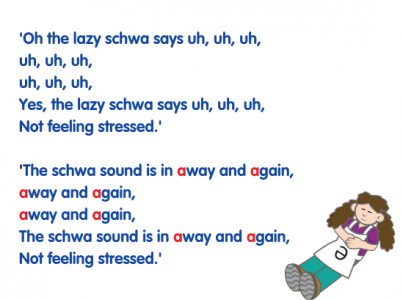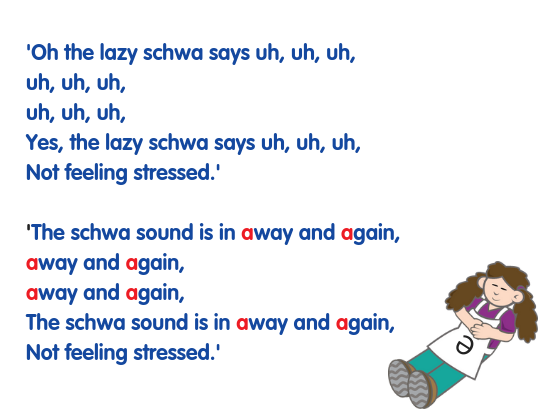 Substitute other two-syllable words for 'away' and 'again' for other verses.
4) Teach the concept of schwa at syllable level
Have students sing polysyllabic words, tapping syllable(s) on their leg. The stressed syllable(s) should be tapped with greater strength. Have them mark the stressed syllables in written words with a stress mark (ˊ). Have them write the schwa symbol above the vowel in the unstressed syllables. They should be made aware of words which have identical spelling but different stress such:


5) Teach students to try schwa for a vowel sound in reading
Teach students to try the schwa sound when a long or short vowel doesn't sound right in a word being read. e.g., 'I'm having a sal-ad'. After decoding the word with a 'robot' voice (each syllable evenly stressed), have the student place stress on one syllable (sal') then pronounce the other with a schwa for the vowel (Əd). If this does not sound right, stress should be shifted to the next syllable.
6) Teach strategies for representing a schwa in spelling
(a) When learning the spelling of words with a schwa, encourage students to use their 'spelling voice'. They should pronounce the unstressed vowel/syllable the way it would be pronounced if the vowel sound was stressed, with a pure sound (e.g., A, thE, SUPport).

(b) Teach students to associate base words containing a schwa with their derivatives especially when the derivative has an accented syllable in which the pure vowel sound is clearly heard e.g., president-preside, human-humanity, definition-define.

(c) Teach students to use memory joggers for words that don't have derivatives e.g., 'cotton on to an idea'.
7) Teach words with a common schwa representation together
e.g., 'a': about, amaze, away, again, around, ahead, alone
'ain': captain, certain, fountain, bargain
Activities to Promote Awareness of Representations of Schwa
Word sorts of schwa words
Word completion, with space for schwa representation
Find the schwa – highlighting it in words
Create a schwa wall with schwa words grouped by vowel representation. Some of the following examples are taken from Part 3 of Phonics Hero (these are in an Australian accent, so some may not apply in your dialect):
a – comma, atlas, salad, alphabet, amount, thousand
e – elephant, carpet, taken, telephone, item, event, prophet, destroy
i – cousin, animal, pencil, easily, accident, confidence, promise
o – carrot, astronaut, bottom, dinosaur, offend, ribbon, phantom
u – rhombus, upon, supply, medium
y – vinyl, syringe
The chances are that, like me, you managed to learn to read and spell without being explicitly taught about schwa. Schwa remains, however, an important part of the English code and all of us will have students who need to understand it in order to fully 'crack' that code and make maximum progress in reading and writing.
Author:
Shirley Houston
With a Masters degree in Special Education, Shirley has been teaching children and training teachers in Australia for over 30 years. Working with children with learning difficulties, Shirley champions the importance of teaching phonics systematically and to mastery in mainstream classrooms. If you are interested in Shirley's help as a literacy trainer for your school, drop the team an email on info@phonicshero.com
---