Downloading Student Usage Reports
With our Usage Reports feature, you can see how often and how long each child has played Phonics Hero across specific dates. This can be especially useful for checking which children might need reminders of their logins or encouragement to continue playing.
If you are an account admin, you can also view and download Teacher Usage Reports.
Log in > Reporting > Usage Stats – Students
To download student usage stats:
Log in to your Phonics Hero account.


In the left-hand menu, click 'Reporting'.


When the menu expands, click 'Usage Stats – Students'.


When the Usage Stats – Students page loads, use the drop-down menu to select the correct class.

Note: Teachers will only be able to see classes assigned to them. If you are the 'admin' on the school's Phonics Hero account, you will be able to see all classes across the school.


Choose your desired date range to see how often children have played since receiving their account or in the last 7 days, last month or your chosen date range.



In the top, right-hand corner, click the blue 'Excel' and/or 'PDF' button.

Your usage report will now download to your device!
See the steps in action: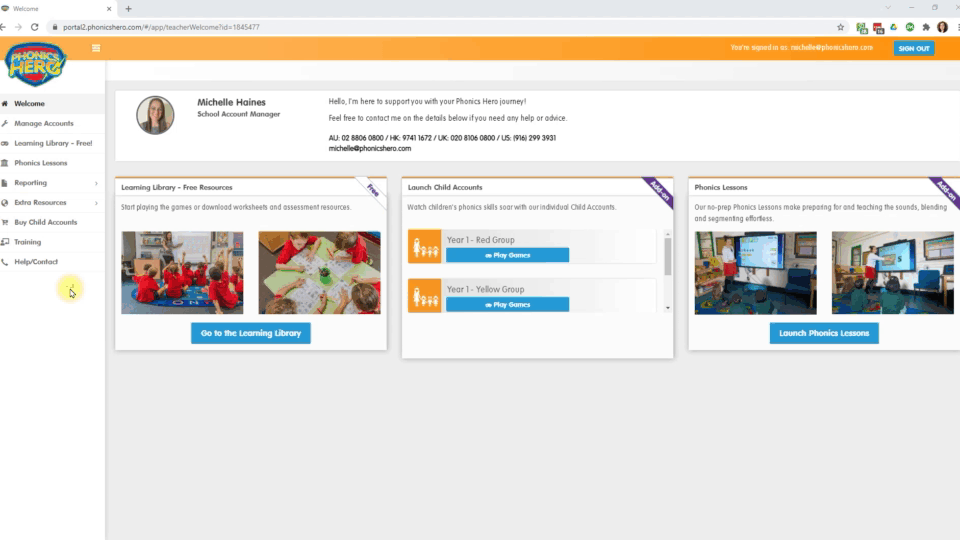 The usage report tracks the last date of login, total number of logins, and total time spent playing to date for each student*.

*Time spent playing is only recorded from the point that children begin playing a game – and so the number of logins does not necessarily indicate the number of times children have played the games, as children (or parents) can be logged in without playing.
You might notice that some students will not have logged in for a while, or that their usage has dropped off. You should send login information to parents several times a year – over the course of a busy school year, login details will get lost!
Top tip: Download our printable PDF certificates to give to children as incentives and recognition for their hard work.
For more tips for keeping students engaged, read our blog post: Getting the Most out of Phonics Hero.
Author:
Phonics Hero
Still need help? Contact us at info@phonicshero.com.