How to Change the Accent
Phonics Hero is available in an English, Australian and a General American accent.
Please note: the American and Australian accents are currently only available when logging in using your computer's browser or through the Android app. We are in the process of updating this for iOS.
Preview and Compare the Accents
Note for American users
There are three factors our American users should consider:
Vocabulary: You might come across words which aren't used in North America, e.g. 'bin' or 'lorry'. Skip these words or explain that they are British words. We are working on an update which will exclude these for American users.
Spellings: We've already excluded words where the British spelling differs from the American spelling (e.g. 'colour').
Alternative Spellings: In our order of sounds, skip the graphemes with an asterisk. These are not an alternative spelling in a General American accent for the specified phonemes. For example, 'aw' for the word 'law' is pronounced the same as 'lor' in an English accent vs 'la' in a General American accent, so is not an alternative to 'or' as in 'for'.
We are working on an update which will automatically exclude any alternative spellings which are not relevant to a General American accent.
Changing the Accent
Please note: You must be designated as an admin to change the accent from within your Phonics Hero account.
Parents who have purchased their own subscription to Phonics Hero should follow these instructions.
Log in > Manage Accounts > School Section
To change your accent:
Log in through our website.


Click 'Manage Accounts' in the left-hand menu.


In the 'School' section at the top of the page, next to your current Accent, click the orange 'Change' text.



A pop-up window will appear; here you can preview and choose from our available accents. Select your chosen accent and click 'Save'.



A pop-up window will appear and ask you to confirm that you are happy for this change to affect all teachers and students within your school's account; click 'Yes'.



Your Phonics Hero account(s) will now play content in your chosen accent when you log in on a computer. This update will be available in the Phonics Hero app soon!
See the steps in action!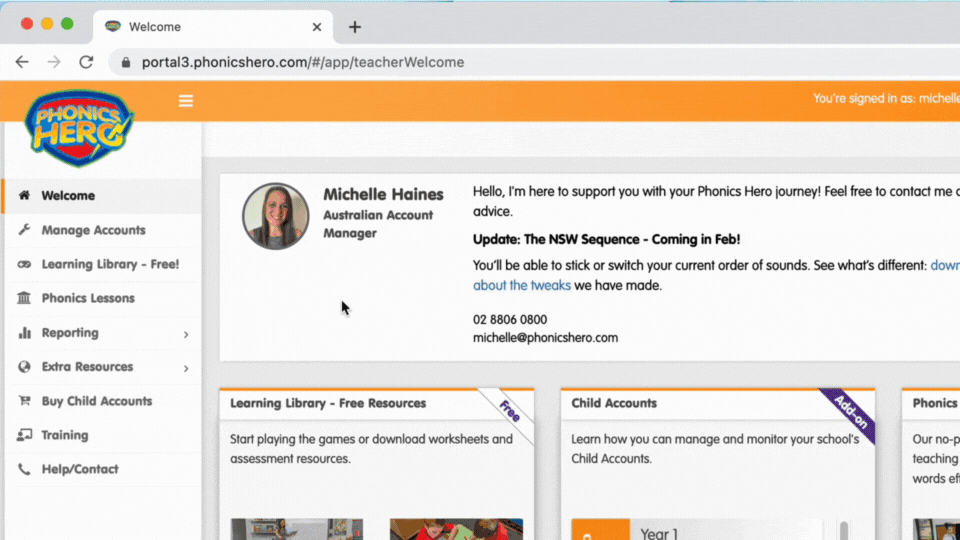 Author:
Phonics Hero
Still need help? Contact us at info@phonicshero.com.