The Website/App Won't Load the Images and Appears Offline
It may appear as if the Phonics Hero app or website is not connected to the internet and therefore images can't download. If other apps and websites are able to connect, it's likely to be a problem with your school's network. It might look like this: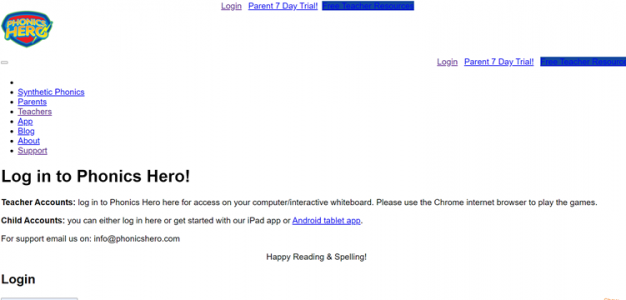 If you're trying to access Phonics Hero at home, check that your parental control or anti-virus software is not blocking Phonics Hero.
If you are using Phonics Hero in a school, your IT Department will need to ensure your Firewall is not blocking/filtering out Phonics Hero. Unfortunately it is out of Phonics Hero's control and you will need to action this with the IT Department directly. You will need to whitelist our website (add our website to your school's list of safe sites) using the following two URLs:
https://phonicshero.com
https//*.phonicshero.com/
Please ensure that the second URL includes *. to allow access to all of Phonics Hero's subdomains.
If you can play the games through a computer but not on a tablet – check the tablets are on the correct network.
If you're still having difficulties, get in touch.
Author:
Phonics Hero
Still need help? Contact us at info@phonicshero.com.